For optimized measurement performance GTE has designed two separate specialist devices.
KMG-2000-G
The graphical force measuring instrument.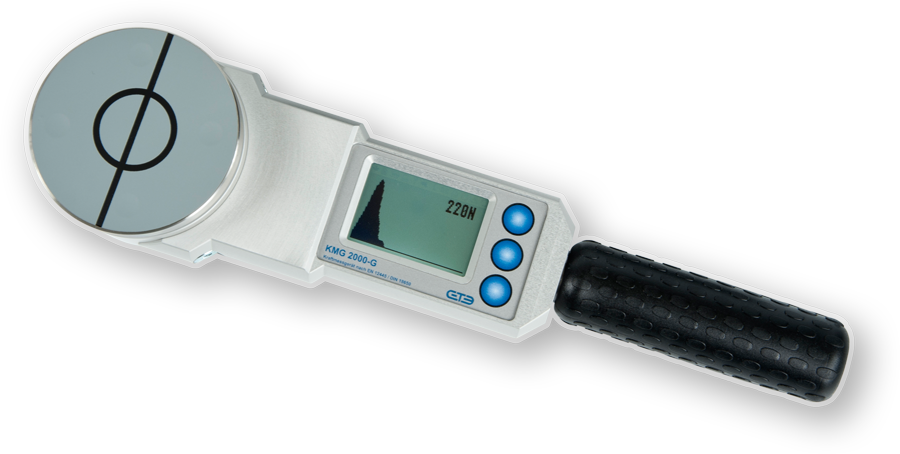 KMG-2000-G measures the dynamic and static forces during the specified time and displays the force vs. time graph as well as the peak force value. All measurement values are instantly evaluated and saved to the huge internal memory (space for 500 measurements). According to the standards a triplet of individual measurement values is automatically averaged, yielding a final measurement result, which is conforming to standards.
Aside from this aspect, its compact design and its technical details make KMG-2000-G a powerful as well as convenient instrument for all kinds of force measurements linked to power operated closures.
The huge internal memory of KMG-2000-G allows you to store the results of 500 measurements (= 166 standard triplet measurements). Saved measurement data can be reloaded to the display at any time (including the graphs).
For further analysis and data administration the device is equipped with a USB interface. With the seperately available software called KMG-VD, saved measurement data can easily be transferred from your KMG to a PC or notebook for evaluation, archiving and printing of test protocols.
Measuring range: 25 N – 2000 N
Illuminated graphical display with diagram view
Multi-lanuage service menu
High grade robust metal casing
Internal memory for 500 measurements
Automatic averaging
USB-Interface for PC connection
PC-Software for visualization, archiving and printing of measurement protocols
KMG-Lite
The easy to use in-situ force tester.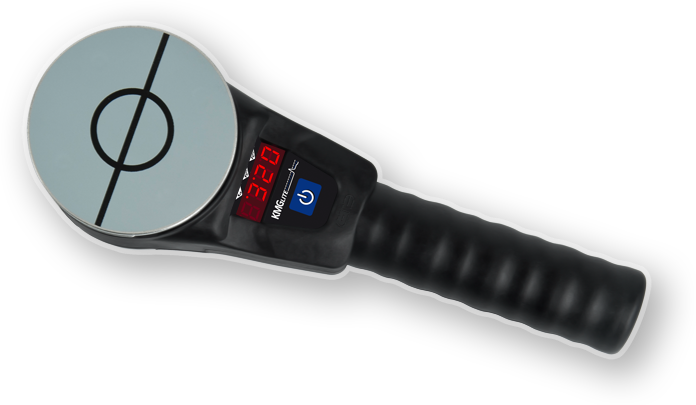 Measurement-range: 25 N – 1600 N
Intuitive handling
Automatic standard conforming evaluation
Numeric display of parameters Fdyn, tdyn and FEnd
Long-lasting battery supply
Transport case with protocol sheets included
Distance-Set with tripod and spacers available
Best value force tester on the market
KMG-Lite is the most essential force tester available. It was designed to perform a EN 12453 conforming force test as easily as it gets. Push the button once, apply the force, wait for the results and you're done. No data storage, no interface, no complicated service menu – Just force testing.
In terms of accuracy and evaluation KMG-Lite is fully compliant with the EN.
For quick and professional documentation, KMG-Lite comes along with specially designed paper pads and for electronic documentation with a free online tool for desktop, mobile and tablet use:
The force-test-tool.com
Try it now!
KMG-Lite Distance-Set and KMA-2000
For both devices handy spacer sets are available, which cover two standard measuring distances defined in BS EN 12453:2000, 5.2.
| | |
| --- | --- |
| | |
| »KMA« Spacer set for KMG-2000-G | »KMG-Lite Distance-Set« |